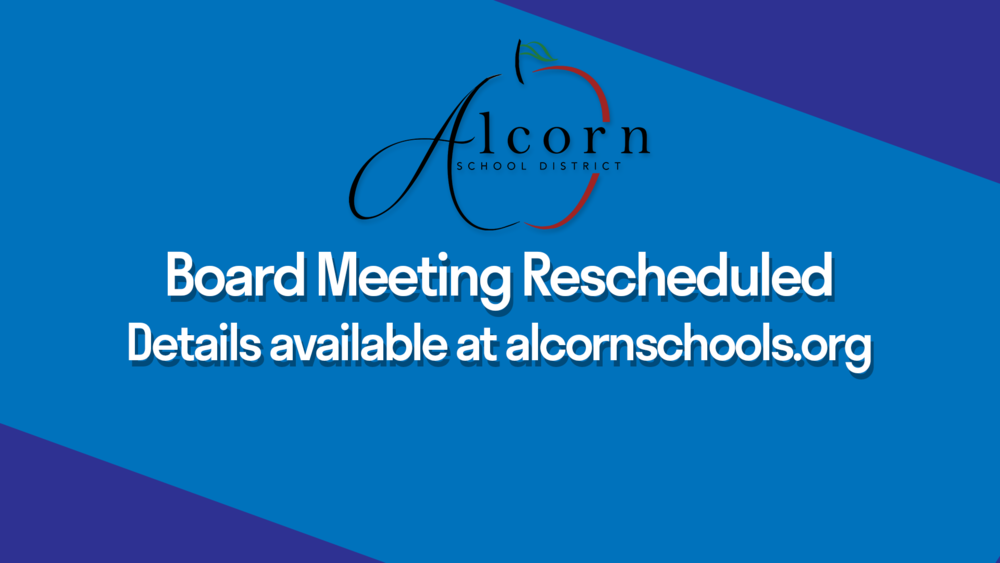 Board Meeting Rescheduled
Alcorn School District
Monday, March 16, 2020
NOTICE OF CHANGE IN MONTHLY MEETING DATE
FOR THE ALCORN SCHOOL DISTRICT
TO: All Interested Citizens, Students, Teachers, Administrators, and
Judd Chapman
Mary Catherine Coleman
Daniel Cooper
Ann Little
Superintendent Bill Brand
Ginger Mills, Board Clerk
SUBJECT: Change in the Date of the March Meeting to Friday, March 20, 2020 at 12:00 p.m.
NOTICE OF MEETING SCHEDULE CHANGE
The monthly meeting for the Alcorn School District set for tonight, March 16th, 2020, shall be postponed. Due to the threat of the potential spread of the Coronavirus, the Center for Disease Control's recommends that gatherings of more than fifty people be avoided whenever possible. There are several matters on the Agenda for this month which may attract a large number of interested citizens. Out of an abundance of caution, tonight's meeting is being cancelled and rescheduling it for Friday, March 20th, 2020 at 12:00 p.m. (noon).
The postponement is necessary to give the School District an opportunity to provide full access to the meeting for the interested public through an internet broadcast. Additionally, essential members of the public may attend, but we ask that you only attend if you wish to speak to the Board. If you feel the need to be heard in person, please call the Superintendent's Office (286-5591) to request to be placed on the Agenda. Out of safety concerns, we are limiting the number of people who appear in person to fifty (50). To avoid needless repetition of the same position, please coordinate with other individuals who may have similar concerns about items being considered by the Board of Trustees. The Board also welcomes any written communications from concerned citizens, instead of having to appear in person. I am sorry for any inconvenience during these unusual times and circumstances.
ALCORN COUNTY SCHOOL BOARD
BY: /s/ Ricky Fields
Ricky Fields, President