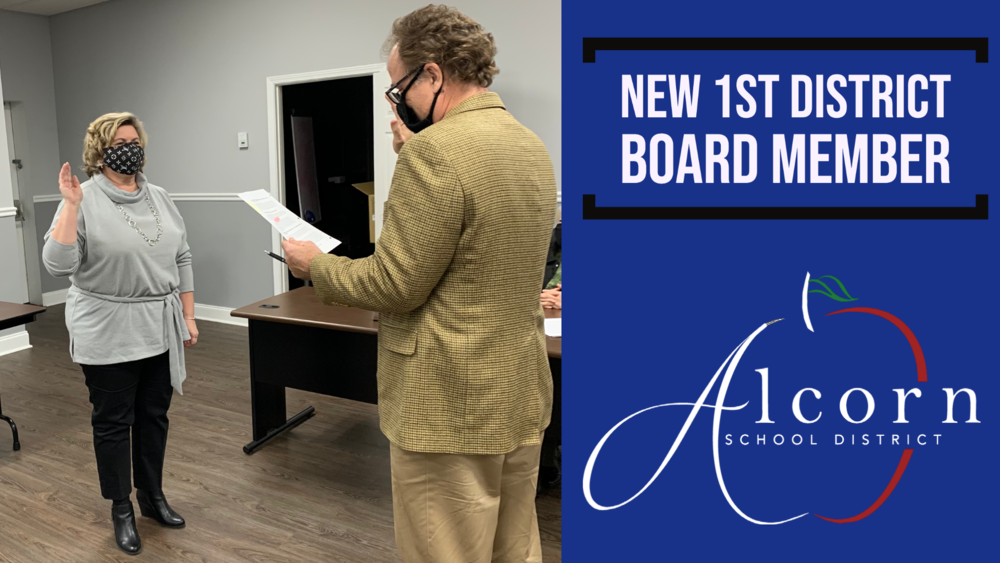 New School Board Member for the 1st District
John Mask
Wednesday, December 02, 2020
The Alcorn School District Board of Trustees gained a new face with the swearing in of Katreina Burgess to the vacant 1st District seat left open by Ricky Fields' departure.
Mrs. Burgess is a product of the Alcorn School District as a 1986 graduate of Alcorn Central High School. Growing up as a teacher's kid and grandkid helped her learn what it means to truly devote your life to serving students and their families. After high school, Mrs. Burgess attended Northeast Mississippi Community College and Mississippi State University attaining a Bachelors of Home Economics. She later continued her education earning a Masters of Agriculture and Extension Education again from Mississippi State.
Mrs. Burgess devoted 27 years to the classroom teaching a variety of different subjects to students grades 7-12 including home economics, family dynamics, child development, health, computer skills, early childhood education, and keystone. She began her career at Tishomingo Attendance Center. After a year at Tishomingo, she moved the Thrasher for five years and later back to Alcorn Central for 21 years.
Those that know Katriena Burgess know that she has a fun and energetic personality. She said that some of her happiest moments and fondest memories took place in the halls and in the classroom – most importantly those moments where she could see her students smile. Burgess claims her favorite part of the Alcorn School District is the people. "They made me who I am today," she proudly stated.
Among her passion for teaching, Mrs. Burgess has also dedicated a great deal of time to volunteer service. She has served as a volunteer for Alcorn County 4-H programs and was elected State President of the Mississippi Volunteers Leaders Association. She is also a lifetime member of Mississippi Professional Educators and is an active member of Foote Street Church of Christ.
Burgess is gaining her seat on the board to serve the First District of Alcorn county. She was nominated to fill the vacant seat by Ann Little of District 2. After a unanimous vote, the Alcorn School District Board of Trustees appointed Burgess to her position during the November board meeting. Mrs. Burgess is looking forward to her opportunity to again serve the students, faculty, staff, and community of the Alcorn School District.
While speaking with Mrs. Burgess, I asked her what her hopes and concerns were for the district. You can read her responses below.
What hopes and goals do you have for the future of the district? "I want ASD to continue to grow into a place where a student can leave with the skills and education needed to be successful both in the community and in their own families. We have so many great opportunities in our area. We have great teachers and administrators who want to see our students succeed. All of our students need to have the opportunity to develop the skills needed to pursue both career and future educational goals."
What is your main concern in the district right now? "Of course, my immediate concern is the health and safety of our school children and staff. We have an unprecedented situation that we are in the midst of with this COVID pandemic occurring. While our leaders have done a great job of keeping our district safe, we have a responsibility to ensure that all our students continue to learn and advance in their academic areas. I also worry about the emotional toll that this has created for our students and staff. The stress and strain for our parents is also a concern for me. I will say that there has been a lot of work completed that has helped to relieve the issues facing the students, staff, and the parents, and they need to be praised for that. We can all work together to continue to improve our options for all."
We are proud to have the insight and passion that Mrs. Burgess brings to our school board. She will continue to help Alcorn School District ensure that students are #LearningToday & #LeadingTomorrow!