Coach Moore invites all incoming 7th & 8th grade boys to join him Friday at 5:30 PM in the High School Gym for a Jr. High Boys Basketball parent meeting. If you have any questions, contact him at
nmoore@alcornschools.org
.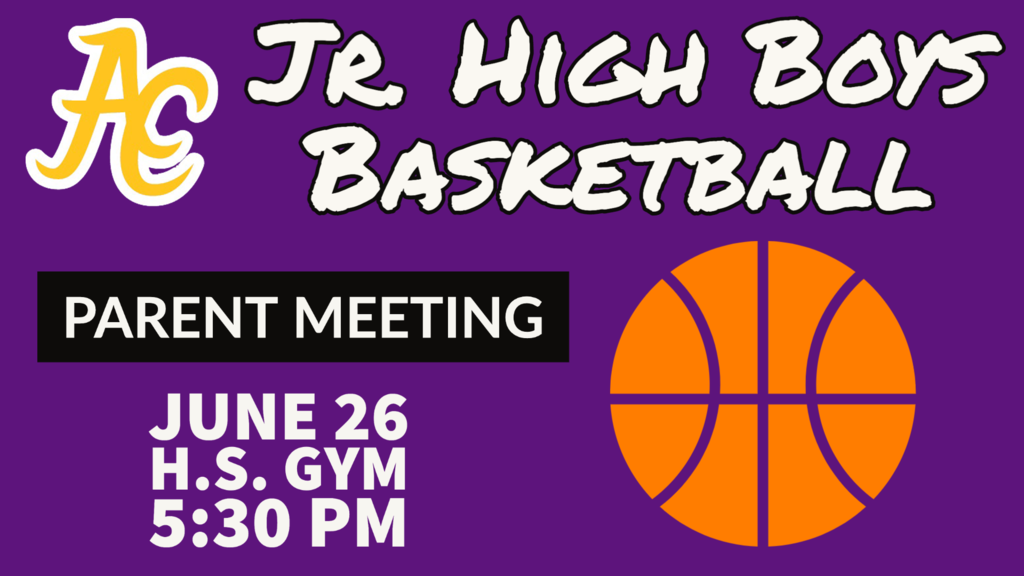 Hello ACMS Family! If you see a tired teacher this summer it is because they are working hard to improve their rooms and get the school ready for our students to return as scheduled on August 5th! As plans and procedures are finalized, we will be making you aware and answer any questions you may have. Stay cool and stay safe! See 'ya soon!

The Alcorn County Health Department will be offering extended hours to provide immunization services for students who need them to return to school. Please take a look at the dates and times below. Tuesday, June 23 and Thursday, June 25 - 8 am until 7 pm. Saturday, June 27 - 10 am – 4 pm Tuesday, June 30 - 8 am until 7 pm. Due to COVID-19, the Alcorn County Health Department is not accepting walk-ins. Please call 662-287-6121 to schedule an appointment.

INCOMING 7th & 8th Grade Girls - A Volleyball parent meeting will be held Monday, June 8, for anyone interested in participating in the upcoming season. Coach Lancaster will be discussing summer workouts and practices. Please note that MHSAA requires a current athletic physical to participate in summer practice.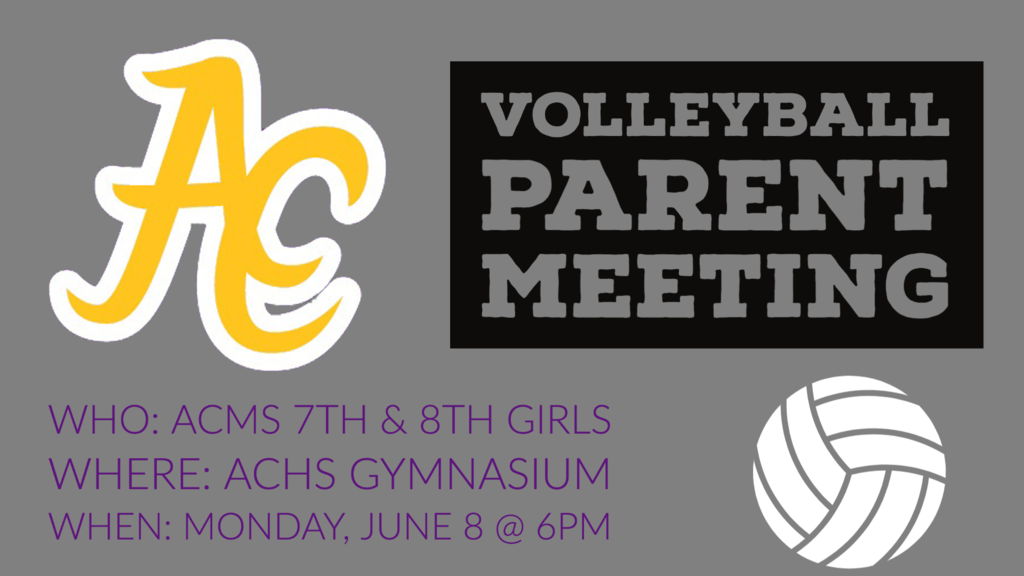 ACMS will have a final pickup/dropoff Friday from 8-12. At this time anyone needing to drop off books/materials can do so. Also anyone needing to pick up personal items left in the school can do so. These items have been bagged for each student from the lockers and classroom.
The ACMS work packet return is set for Monday morning from 9-11. Teachers and staff will be stationed in front of the middle school to take in packets during this time.
ACMS will be resuming packet pickup and delivery Monday. This packet will include work for the remainder of the school year and will be the last packet for the school year. Pickup will be from 9-11 Monday morning in front of the Middle School.
To document the current events of COVID-19, the yearbook sponsor is accepting photo entries of ACMS students completing school activities from home. Photo entries will be in the 19-20 yearbook. This is completely voluntary for anyone wanting to participate. Anyone wishing to participate can send photos with caption description to
mthompson@alcornschools.org
. Thank you!
Reminder that ACMS pickup for packets this week will be Wednesday from 9-11 in front of the high school gym.
Beginning next week, the Alcorn School District offices and schools will be closed on Thursdays and Fridays until further notice. We will continue to deliver meals and provide packet pickups and delivery as scheduled.
AT&T Access: Internet for households with students receiving free lunch at $10 a month. Call 1-855-220-5211 Comcast Internet K-12: Free internet service to low-income families during the coronavirus outbreak.  Visit internetessentials.com
The pickup for student work packets will be from 9-11 tomorrow in front of the high school. If you can't make it at that time let us know and we can work with you.
Our distance learning program is in its final stage of development. The district will be sending out information with the finalized plan by Tuesday. Thank you for your patience and we look forward to serving our students during this unprecedented time.
ACMS is continuing to develop a distance learning plan due to the school closures we are experiencing. Starting today, you should begin receiving communication from teachers concerning lessons for students. Thanks and stay safe!
ACMS is working to develop a distance learning program in the event of further school closings. As soon as the plan is finalized we will push that information out as soon as possible. We will continue to have grab and go meals available and will deliver if requested. Thanks
The phone lines at Alcorn Central Middle School are currently down. We are here and plan to delivery meals as needed as originally planned. If you need a meal delivered please call the high school at 662-286-8720. All meal pickups will be at the elementary cafeteria.
As our community faces the impact of the Coronavirus, the Alcorn School District wants to be proactive in our response to the virus. Therefore, all of our schools will be closed Monday, March 16 through Friday, March 20th for students and teachers. All administrators, maintenance, and central office staff should report to work. If you have any questions, please contact your immediate supervisor for guidance. All before & after-school activities are canceled, including practices while school is out. The attachment can also be found on our website at alcornschools.org for more information on the steps we are taking to protect our students, staff, and families. The health, safety, and well-being of our students are our top priorities.
We have spent the last several days learning about the coronavirus and its impact. For Alcorn County Schools, that means understanding how it affects our students and employees and then making the necessary adjustments to our schools. We have one simple objective that guides us: keeping our students and employees safe. This has been at the center of our conversations. With that in mind, we are making some adjustments for preventive measures. We are ramping up cleaning services at our schools and are adding additional hand sanitizer as well as sanitizing wipes. We are closely following the Centers for Disease Control's (CDC) guidelines and recommendations on the steps we can take to help prevent the spread of the virus. We would like to stress to our students and employees the importance of washing hands and staying home if they feel sick.
Attention: 8th Grade Parents Please bring a baby picture of your 8th-grade student for the 2020 yearbook. The picture needs to be small. It will be cut and glued into a collage for the 8th-grade baby picture yearbook spread. Parent pages and order forms need to be submitted no later than February 28. In Addition: Yearbook Sale has been extended Due to popular demand, all yearbook orders are due by Thursday, February 21. Don't forget to order your 2020 yearbook!
Due to Inclement weather, the Alcorn School District schools will be delayed two hours.
The final ACMS 2019-2020 yearbook sale starts today. All order forms are due on Wednesday, February 5th by twelve. For parents of eighth graders, the final day to turn in parent page order forms is Monday, February 3rd by twelve, and page submissions are due February 28th.
The final ACMS 19-20 yearbook sale starts today. All order forms are due on Wednesday, February 5th by 12:00. For parents of 8th grade students, the final day to turn in parent page order forms is Monday, February 3rd by 12:00. The final day to submit your page is February 28th.
The ACMS Science Fair will be Friday. Participating Students can bring boards and tables to Mrs. Quinn's room tomorrow morning. Mrs. Quinn will meet with all Science Fair students tomorrow at break in her classroom.
This is a message from ACMS. Just a reminder that there will be no school Monday. Hope everyone has a great weekend.
Tomorrow, Jan. 17th is the deadline to register for the ACHS Winter Dance Camp. Please turn in all forms & money to the office.
This is a message from Alcorn Central Middle School. School Pictures will be made Friday September 13h. Please be on the lookout for order forms early this week.
2019 School Pictures The 2019 school pictures will be made this Friday, September 13th. Order forms will be going out early this week.
The 2019 Meet the Bears for Fall sports will be held in the high school gym August 22nd at 7:00.
2019-2020 ACMS Orientation will be in July25, 2019 in the cafeteria. 5th&6th grade will be at 5 pm and 7th&8th grade will be at 6 pm.
The athletic ceremony will be in the High School Gym tomorrow at 1:30.
7th Graders, don't forget your state tested approved calculators for the test tomorrow!
The ACMS Academic Awards Ceremony will be held in the Middle School Gym at 6:00 p.m. on May 14th.
Balfour will be on campus Tuesday, May 7th to deliver spirit rings for 7th graders.
9th Grade Orientation for the 2019-2020 school year will be tonight in the cafeteria at 5:30.
Ninth grade orientation for next school year will be held on Tuesday April 23rd at 5:30 in the cafeteria. This is for eighth grade students who will be in ninth grade next year.
Tonight's baseball at Corinth has been postponed due to weather.
Balfour will be on campus Tuesday March 5th to take spirit ring orders for 7th graders. A minimum $20 deposit will be due. Extra packets are available in the office if anybody needs one.
Any middle school students participating in Archery this year can bring their bows to school for practice. We will be glad to store bows in the office to keep them for the students until after school practice/meets begin if needed.
Basketball tonight at Chalebeate. Games start at 6:00 p.m.
Basketball tonight versus Corinth in the High School gym. Games start at 5!
Congratulations to our basketball teams for their sweep over Michie last night!!