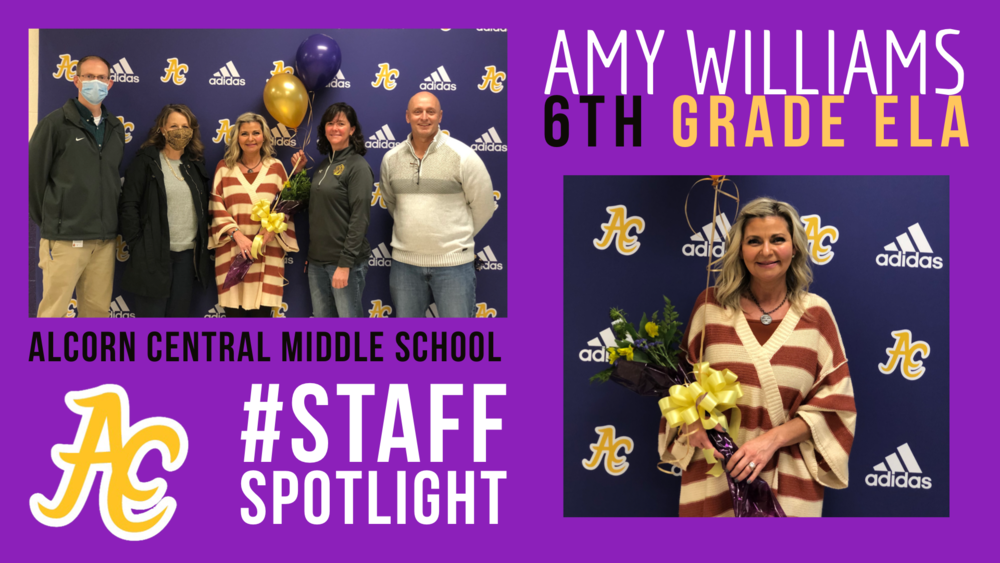 💜🔦 ~ ACMS Staff Spotlight ~ 🔦💛
Alcorn Central Middle School
Friday, January 22, 2021
It is our privilege to spotlight yet another GREAT teacher here at Alcorn Central Middle School.
Mrs. Amy Williams was recently named ACMS Teacher of the Year and for good reason. She pours her heart and soul into the young minds that come through her classroom.
Williams is a 1991 graduate of Alcorn Central High School and a 1997 graduate of Blue Mountain College where she earned a Bachelor of Science in Elementary Education. She began her career with Alcorn School District in the fall of 1997 teaching fifth and sixth grade English Language Arts at Glendale Elementary School. She served the students of Glen for 19 years teaching ELA in grades 4-6 for 13 of the 19; the other six years were spent in the kindergarten classroom.
ACMS was lucky to gain Mrs. Amy in July of 2016. After arriving to AC, she taught fifth grade ELA. This year, she moved up one grade level and now teaches sixth grade ELA. Mrs. Amy has made a huge difference in the lives of so many children with her bubbly and loving personality. Her love for people was a big part of the decision for teaching, but she accredits most of desire came from her sister. Williams said, "My sister struggled academically, became a behavior problem and eventually dropped out of school. I wanted to change this, positively impact young people's lives, and make a difference."
Mrs. Amy claims that her students are most definitely the best part about the job. She stated that her favorite part of coming to work was watching students grow. Her love for teaching and love for students is so apparent inside and outside of her classroom.
Alcorn Central Middle School is very grateful to have Mrs. Amy as a part of our family.
We are AC #StaffSpotlight