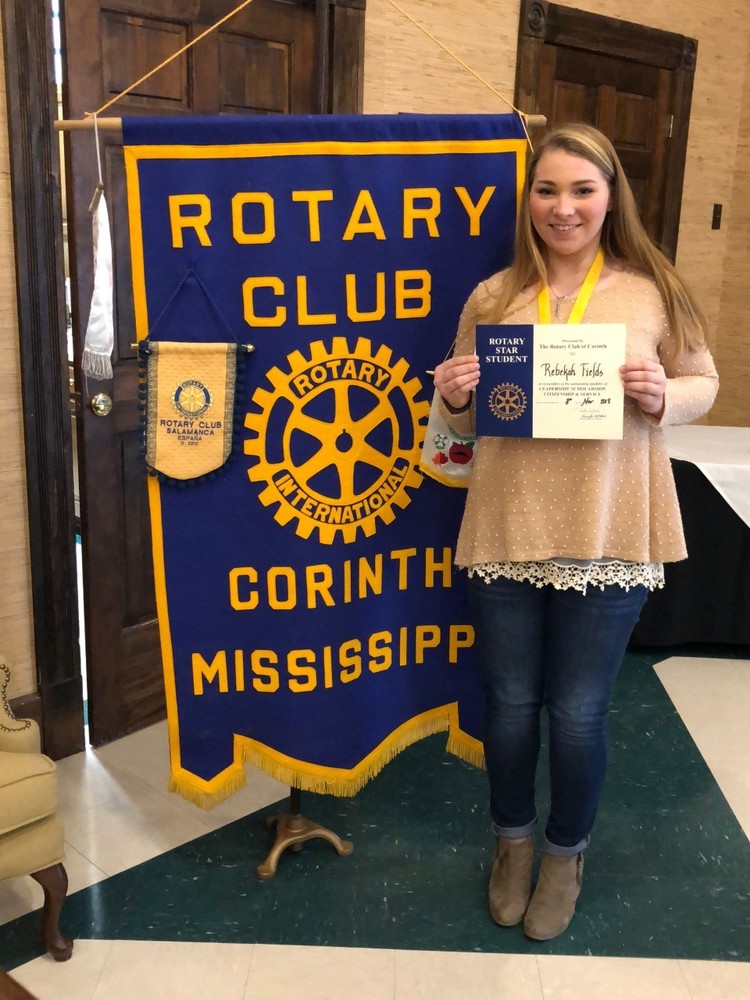 Rebekah Fields Named November Rotary Student of the Month
John Mask
Saturday, December 01, 2018
Rebekah Fields had the honor of being selected as the Rotary Student of the Month in the month of November.
Rebekah is the daughter of Ricky and Kimberly Fields and the younger sister of Abby. She is a senior at Alcorn Central.
Rebekah is a very active student in her school, church, and community. She is a member of the Beta Club, Student Government Association, Fellowship of Christian Athletes, Math Club, Spanish Club, and Future Business Leaders of America. She serves in leadership roles in most of the previously listed organizations including Reporter of the Senior Class of 2019.
Fields is an active member of West Corinth Church of Christ where she is an avid participant in the Lads to Leaders Program. She has participates in Bible Bowl, Speech, and Song Leading.
Rebekah is thankful for the privilege to serve her community in several different volunteer service capacities. She is a Community Connections Mentor, Little League Basketball and Softball Coach, Blood Drive Organizer, Member of the Northeast Mississippi Youth Foundation, and much more. She has collected well over 300 hours of community service since her freshman year.
Rebekah has proven her abilities in the classroom and in athletics. She has received honors in Math, English, Health, Keystone, Social Studies, Science, and Technology Foundations. Those awards include a first, second, or third place finish by final average within each class. Her athletic honors include those for Softball, Basketball, and Volleyball. She has received All Division distinctions in Volleyball and Softball. Other awards include Give God the Glory, Hustle, Slugger, and Coach's.
After graduation, Rebekah will be attending Hinds Community College in Raymond, MS to play softball with the Lady Eagles. She will be pursing a degree in Chemical Engineering with plans to attend Mississippi State University after graduating Hinds.
Rebekah would like to share this statement with all readers. "I would like to say a huge Thank You to the Rotary Club for giving me the opportunity to be their star student of the month. I would also like to thank my school for picking me for this great honor! It means so much to me to know my hard work is paying off day by day. Thank you so much for all the support. I am very grateful to represent this school as the Rotary Club Student of the Month."
The Corinth/Alcorn Rotary Club and Alcorn Central High School sends Rebekah a big congratulations for her many accomplishments!