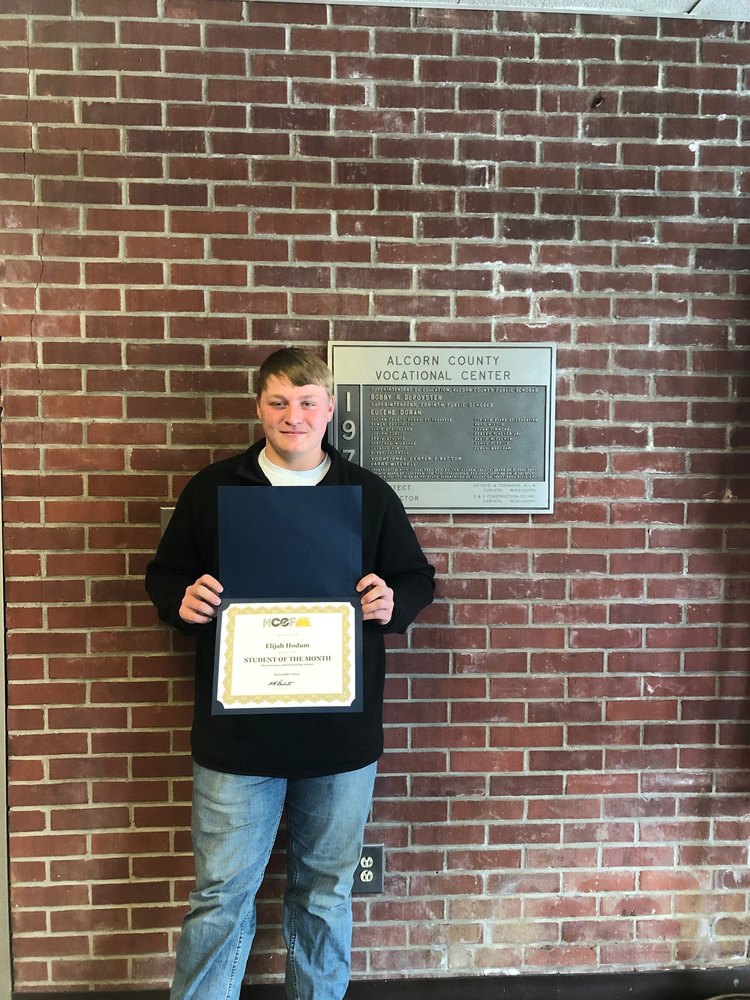 MCEF Names Hodum Student of the Month
Chanta Smothers
Monday, November 11, 2019
Kossuth Senior Elijah Hodum was recently nominated by his Metal Fabrication instructor Jesse Potts to be considered as the Mississippi Construction Education Foundation (MCEF) Student of the Month. After being nominated, a MCEF committee looked at students grades, attendance, discipline, outstanding achievements, leadership abilities and post-graduation plans in order to select the recipient.
MCEF divides the state into three regions, and Elijah was selected as the North Area Student of the Month for November. Hodum was honored with a certificate and letter from Mr. Mike Barkett, Construction Education President. He will be highlighted on the MCEP website at www.mcef.net and on the MCEP Facebook page. Hodum also will be invited to attend a recognition luncheon in the spring where a Student of the Year will be selected and awarded a $500 cash prize.
On the ACTC campus, Hodum is a fourth year student who has completed the Agriculture Power and Equipment program and is a current second year student in both Metal Fabrication and Construction/Carpentry classes. He is an active member of SkillsUSA and of FFA where he won first place in the Northeast Federation Team Welding Competition and competed at the state level. He has also be selected as a National Technical Honor Society member.
In addition, Hodum has been selected to work as an intern in two different programs, completing one internship at Caterpillar Reman in Corinth and currently working as an intern at Oil-Dri in Ripley.