From going to not ranked at all to fourth in the state, our Kossuth Volleyball team is on its way to victory! The Kossuth Lady Aggie Volleyball team is guaranteed a spot in this year's playoffs. With a record of 22-4, this season is the best that Kossuth has ever had, and there's still two games left in the regular season. We asked Head Coach Dawnell Haupt to share her feelings about the team's progress:
"The girls have worked their tails off in pre-season and during season. We are currently 22-4, with 2 games yet to play. Depending on which source you cite, we are ranked 4th in the state overall for 1A to 6A schools and 3rd for 3A schools state wide. I cannot say how incredibly proud I am of this team. Their work ethic and drive to be the best, is the greatest I have ever coached. We don't have just one leader on the court, we have a court of leaders. At certain points in the season, every player has stepped up to help lead the team whether it be by actions, positive attitude, or vocally leading. I have been told this is the best season Kossuth Volleyball has ever had, and I say this is just the beginning. These ladies have set the tone and expectations of every player to follow in their footsteps on the Lady Aggie Volleyball court. Our stats speak for themselves, with the collective team stats listed below. In short, the Lady Aggies are on the rise."
| | | | | |
| --- | --- | --- | --- | --- |
| Ace | Block | Kill | Dig | Assist |
| 326 | 144 | 807 | 417 | 637 |
This Tuesday, the team will face Mantachie at home. A win will clinch division, and they will be in first place going into playoffs. In addition to the games, it is also Senior Night and Blue Out Night. Senior recognition will start immediately following the JV game (recognition should start between 6:15 and 6:30). In honor of Coach Daniel Threadgill, we will be flooding the stands with blue! Come dressed head to toe in blue and help us support Coach Threadgill and his family! This is the last division game of the season, so come out and support your Lady Aggies! Game times are as follows:
4:30PM - 7th and 8th grade
5:30PM - Junior Varsity
6:30PM - Senior Recognition
6:45PM - Varsity
Seniors, Isabella Duncan, Emily Ross, and Ashley Newman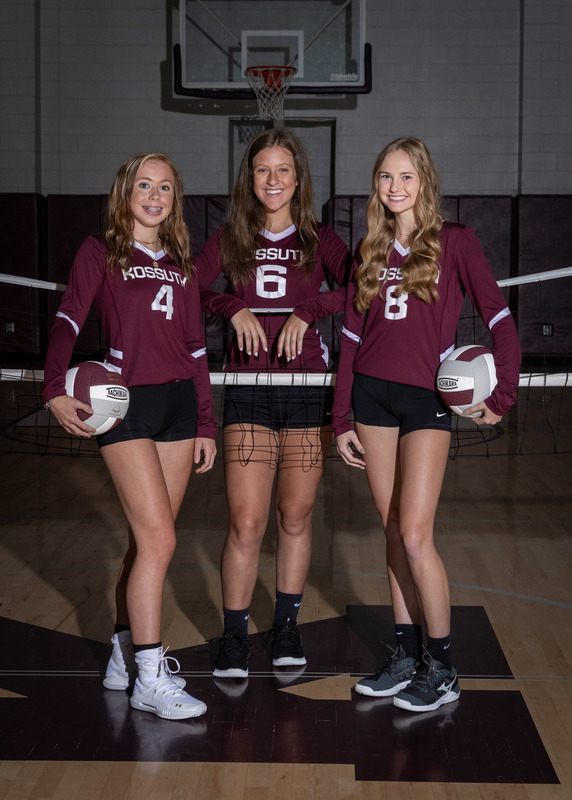 Junior Bailey Wilbanks was awarded The Daily Corinthian "Player of the week" in September, and Junior Emma Arthur claimed that spot this week. We are so proud of all our Lady Aggies!
| | | |
| --- | --- | --- |
| Grade | Number | Name |
| Freshman | 1 | Victoria Fields |
| Junior | 2 | Emily Bradley |
| Junior | 3 | Emma Arthur |
| Freshman | 3 | Meredith Gillmore |
| Senior | 4 | Isabella Duncan |
| Junior | 5 | Dacy Kate Marsh |
| Senior | 6 | Emily Ross |
| Freshman | 7 | Macie Starling |
| Senior | 8 | Ashlee Newman |
| Junior | 9 | Ella Jobe |
| Junior | 10 | Ashelyn Isbell |
| Sophomore | 11 | Aven Mathis |
| Junior | 12 | Bailey Wilbanks |
| Sophomore | 13 | Elena Renfrow |
| Freshman | 17 | Kate McCormack |
| Sophomore | 18 | Alli Ashe |
| Junior | 20 | Anna Greene |
| Sophomore | 22 | Macadyn Holley |
| Freshman | 24 | Avery Greene |
| Freshman | 33 | Claire Hopper |