Head football Coach Brian Kelly and his Aggies captured the Region 1-3A Championship on Friday, October 22, with their win over Mantachie. This championship was number seven for Kossuth High School, and Coach Brian Kelly has been a part of five of them. The first came in 1985 under Coach Jim Drewry. Their second and third division championships were in 1998 (Coach Kelly's senior year) and 1999 under Coach Charlie Dampeer. The year 2011 was Brian Kelly's first as head coach, and he captured a division title that year, as well as 2015 and 2016, with this year's as his fourth.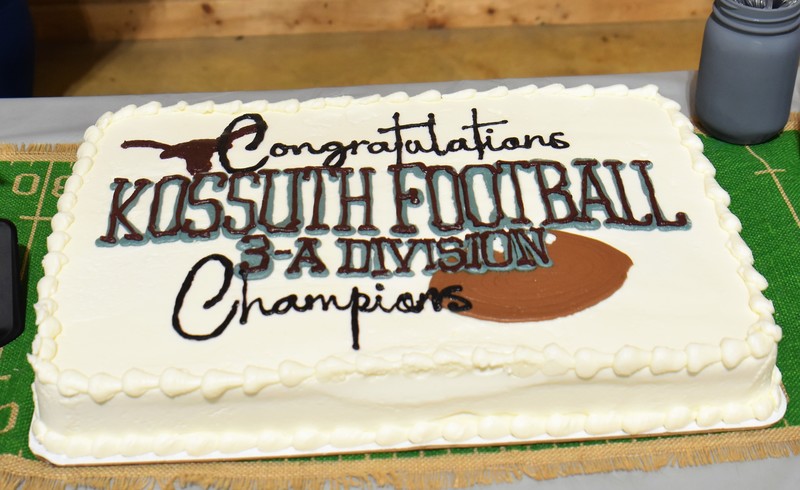 The victory over Hatley was number 80 for Coach Kelly, with number 75 making him the "winningest" football coach in Kossuth High School history. But he does not take credit for all of it. Coach Kelly expressed, "I have been blessed to have coached a lot of really good players and have had some really good assistant coaches." In addition, this year's success is attributed to "being a close-knit group and communicating well."
"These boys have put in a lot of work this season, and it has paid off," Kelly expressed. The depth of the team has also greatly factored into their success. This year's team has the number one rushing offense and scoring defense in the area.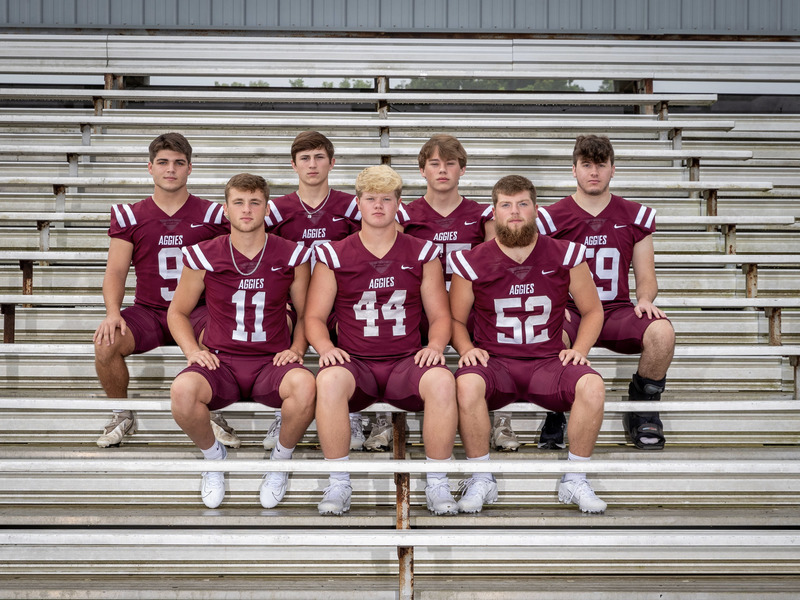 Aggie Seniors: (Front Row) Hunter Bright, Wes Phillips, Landon Lewis; (Back Row) Tate Rogers, Peyton Mitchell, Devin Scott, Riley Lancaster
We talked with the seniors this week who shared their feelings regarding this season. Wide receiver Peyton Mitchell expressed it well: "This group has been a lot closer than any group I've ever played with. With Jack coming in and building a lot of chemistry with the team, building a new offense with a new quarterback and a lot of rookies having to step up to fill in big roles, we've hopefully opened a lot of eyes." The Aggies have a dynamic that they haven't had in a few years, and it shows in their results.
Defensive lineman Wes Phillips commented on the power of the team to overcome obstacles and stated, "We started off with an 0-2 record but overcame a lot of adversity through injuries and close losses. But we still come back every week looking to improve our team and are now on a 7-game winning streak, with a plan to stretch it even further."
One of those obstacles was offensive lineman Landon Lewis's broken leg in the game against Alcorn Central. Lewis underwent surgery and has missed a few games, but the Aggies performed well with their depth of the team. Lewis said, "It kills me being out for an injury, but the team's success gives me hope that I'll be back." The Aggies are five games away from a state title, but Lewis is confident that he will return in a few weeks. Tate Rogers, running back, commented on Lewis's injury by saying, "Play every game like it's your last because it can be."
Hunter Bright, wide receiver, further reiterated the team's determination: "We started off the season slow and had our heads hanging down, but we came back each week more and more hungry, and now we are sitting at Division Champions looking to break a few records." The Aggies average over 266 yards per game, a number at the top among other schools in Mississippi.
The Aggies have proved some doubters wrong in their season this year. Defensive lineman Riley Lancaster stated, "We did what they said we couldn't do."
This Aggie team has a great deal of pure "heart," and is determined to make this season their best yet. Offensive lineman Devin Scott said, "The thought of making it to North Half is very exciting since that's something we've never accomplished."
We wish Coach Kelly and the Aggies all the best in tonight's contest against Nettleton. We are so proud of all of you!
#ProudToBeAnAggie #AggieUp #KHSAggieStrong