Pre-K and Kindergarten registration dates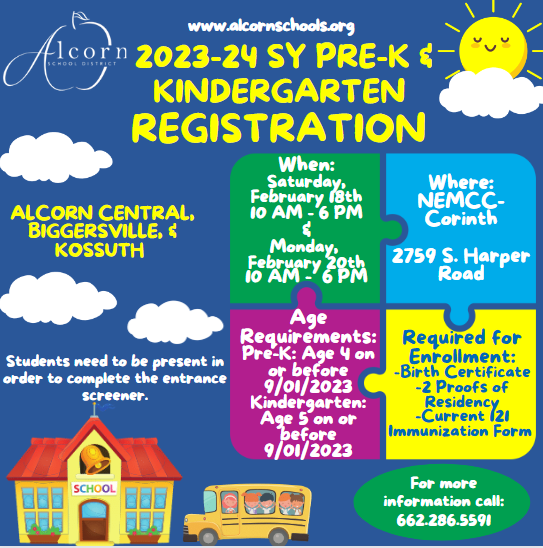 This message is from Alcorn Central Elementary School. The lockdown drill is now complete. Thank you.
This message is from Alcorn Central Elementary School. Shortly, the AC campus will be conducting a lockdown drill. This is just a drill to help prepare our students and staff in the event we ever have an actual lockdown. Notification will be sent out once the drill is complete. Thank you.
Thank you to those that made it to our PTO meeting tonight! We appreciate your time and commitment. A few highlights: 1. The election committee was formed. 2. Fourth grade staff had the highest representation at the meeting. WooHoo! 3. Miranda Thomas won the Chik fil A gift card. Congratulations! 4. Spring fundraisers were set. First up will be our candy bar sales beginning in February. We want to see those funds grow, so we can begin construction on our outdoor classroom. 5. We began implementing Good Things and a Launch tonight, just like we do in our classrooms and at staff meetings. 6. Some good things shared were about the great things happening in Art class and all of the growth shown on our last benchmark exams. Fantastic! Tonight's launch: "Many ideas grow better when transplanted into another mind than the one where they sprang up." – Oliver Wendell Holmes
Join us at 5:30 in the cafeteria and help plan our second semester!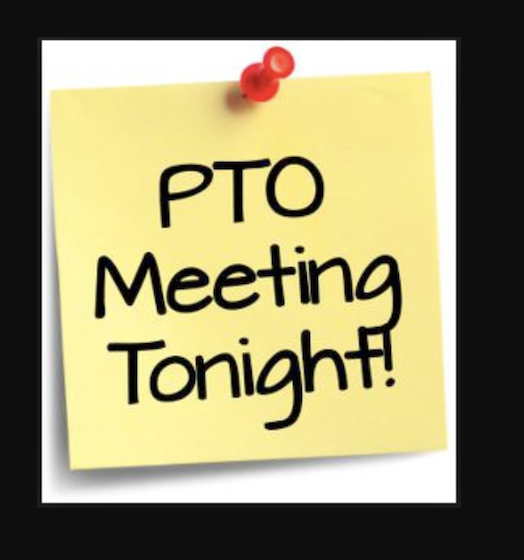 Congratulations to the following students for placing in the Alcorn County Chess Tournament! Rylan Newton in fourth grade placed 1st! Parker Evetts in second grade placed 3rd! Also participating and representing ACES were: Emily Olmos Rebecca Garland Easton Sanders Avery Hendrix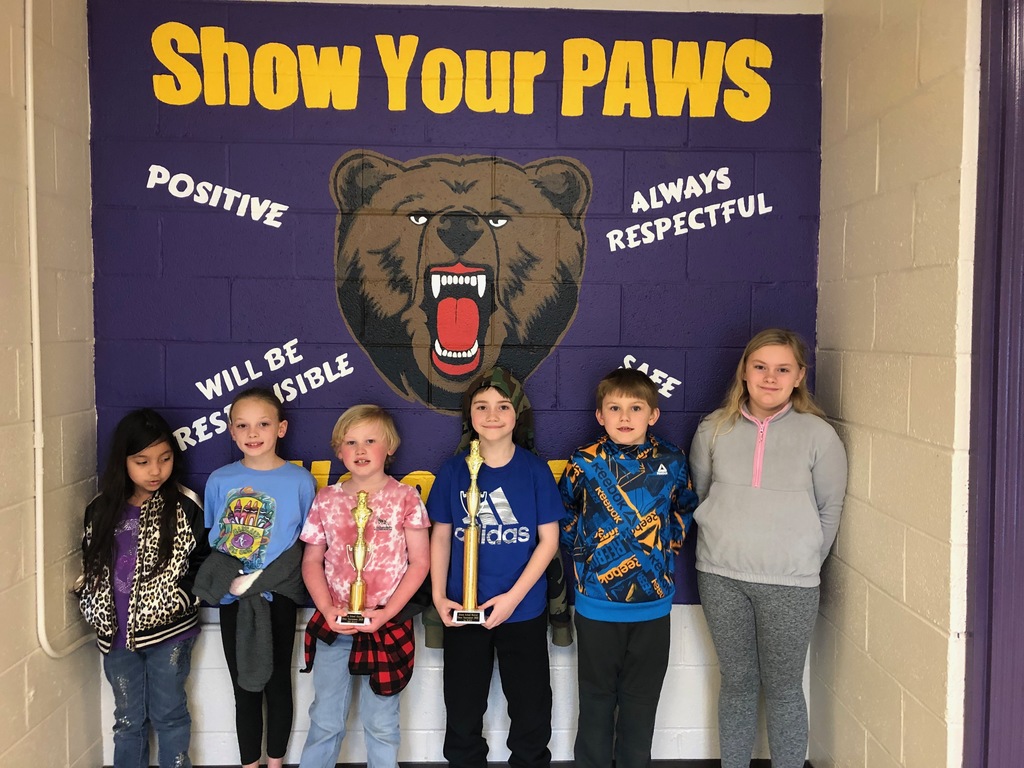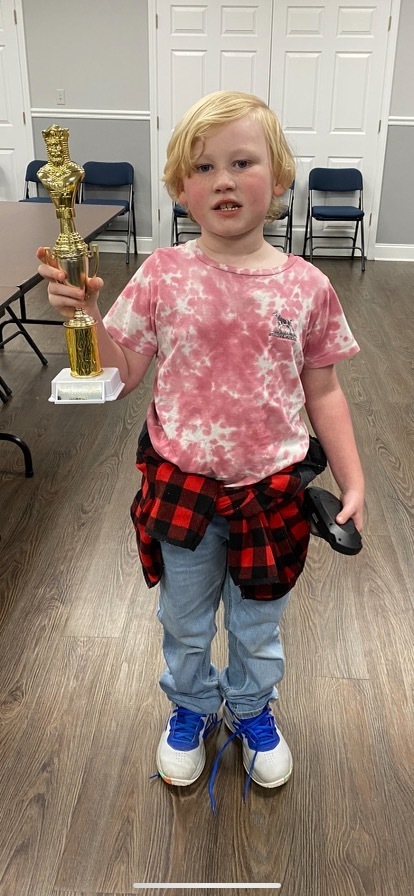 Reminders for this week: *Tomorrow is the 100th day- students may wear a 100 Day shirt (kindergarten check with your teachers about specifics on your celebration if you have questions). *Wednesday we will celebrate 101 Days of School with a 101 Dalamtians theme. There will be just one Cruella de Vil, and we ask that all students and staff dress as dalmatians or in black and white. Let's see how many dalamtians we will have. *Thursday @5:30 -PTO meeting. Come help plan the semester. *Friday- Grow to Glow party. Your child' s teacher will let you know if your child met the requirements, as well as other details. Notes went home last week.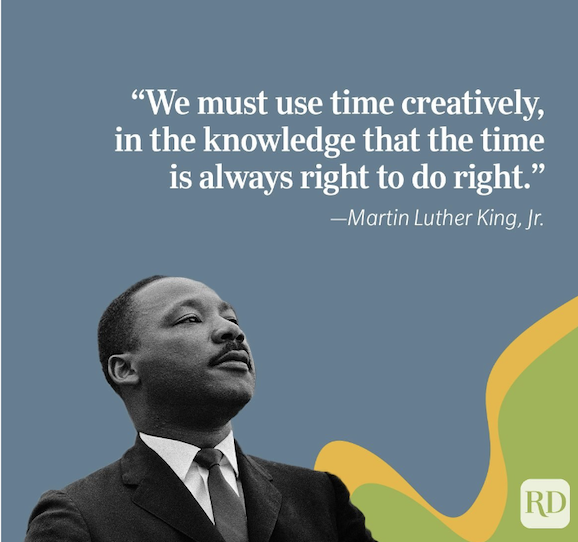 CORRECTION!!! NEXT THURSDAY, JAN. 19. Come help us plan for our second semester! Your support is valuable to the success of our students and school. Join us at 5:30 for about an hour in the cafeteria.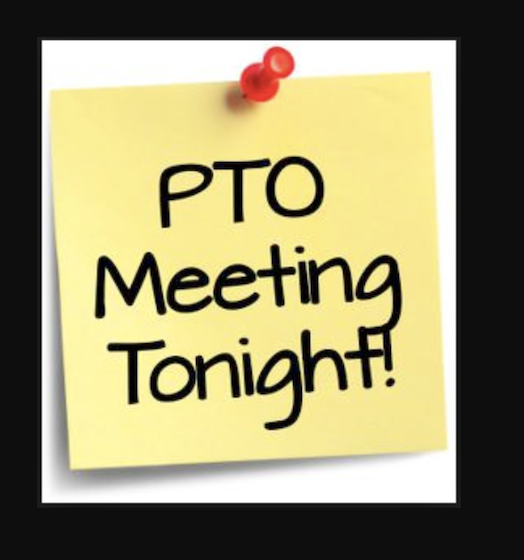 Raise the Woof! Wednesday, January 18, we will celebrate 101 days of school. That's right! Instead of celebrating and dressing in old people costumes on the 100th day, we're changing it up a bit. (Your child may wear a 100th day shirt on Tuesday; however, we are not dressing up as we usually do). On Wednesday, we want everyone to dress up as a dalmation or wear black and white clothes for a 101 Dalmations themed celebration. There will be one special person dressed as Cruella de Vil, and we want the rest of the campus to dress as dalmations/black and white to see how many dalmations this Cruella/school has.
Mental Health Awareness Night Address correction: 31 CR 401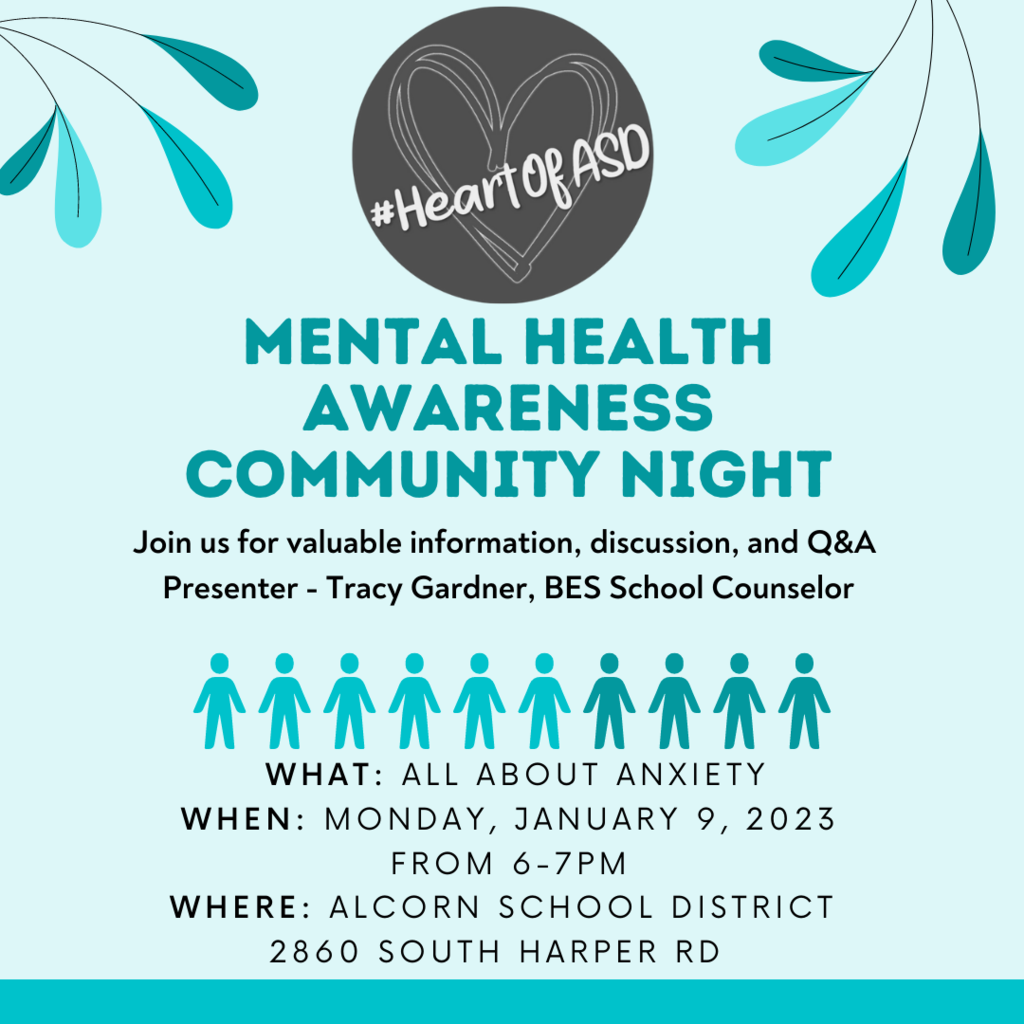 The 21st Century after school tutoring program is canceled for today, Jan. 3. After school will resume Wednesday. Please notify your child's teacher/school of any transportation changes.
Happy New Year from ACES! We hope you had a blessed new year and are ready for a strong start to the second semester. Just a few reminders: 1. Students return tomorrow. Today is a great time to wash up all outerwear, backpacks, lunchboxes, etc. 2. We have many coats, hoodies, etc. in lost and found. If your child is missing an item, please have them check these areas. Also, please be sure your child's name is in these items for easier return. 3. The after school tutoring program will resume tomorrow. 4. Report cards go home Thursday. 5. Unless it is an emergency, all transportation changes should be made by 2:00 pm each day to ensure that everyone is notified in a timely matter. 6. Yearbook sales continue. Don't miss out.
Bedtime Books with Dr. Brooks- Click, Clack, Ho Ho Ho This is a past favorite of everyone that you don't want to miss. My son, Cole, was my guest, and he helped the book come to life.
https://youtu.be/H-YBSugwx1g
Reminder: Santa will be here tomorrow to see all students! If you also want your child's picture made with Santa, be sure to send $5 for a 5x7 picture.
Thursday, Dec. 8, will be the last day for the 21st Century after school tutoring program for this semester. Tutoring will resume on Tuesday, January 3.
Next Friday, December 9, will be the last day to purchase yearbooks and discount cards.
All after school programs are cancelled for today, Nov. 29. This includes Mrs. Jeannie's after school care and the after school tutoring. Please make contact with your child's teacher, if you have not done so, to verify transportation home.